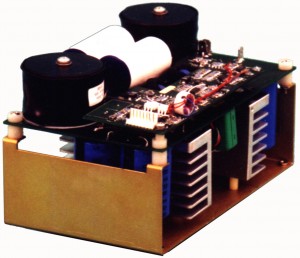 CW Arc Lamp Driver
For pumping continuous-wave arc lamps, AMI manufactures CW Arc Lamp Driver power supplies in individual modules and custom integrated packages for OEM use. Efficient and reliable, these products provide for both lamp ignition and control of lamp currents up to 60A. All CW products are designed to meet the European medical safety standard EN 60601-1 making these products the ideal choice for both medical and industrial laser applications.
The Model 5901 CW Arc Lamp Driver can deliver up to 45A of lamp current or up to 6kW of average output power depending on lamp voltage. The modular design of the Model 5901 allows multiple units to be directly paralleled for >45A applications. The module provides optically isolated indicator and current control lines, excellent line regulation, and low ripple. These features make the Model 5901 CW Power Module an ideal choice for CW laser applications.
The Model 592T igniter provides 1000VDC from an onboard capacitor reservoir to assist in the ignition of CW arc lamps. Simultaneously, the module provides 775V, 300mJ pulses to energize a series or parallel/external trigger transformer. The 592T is designed to derive its input power from AMI's 590 Series of CW power modules, but it can also be supplied by a outside AC source.
Data Sheets (PDF Format) are available for models listed below.
CW Arc Lamp Driver Modules
| Model | Input Voltage | Continuous Output Current | Output Power | Features |
| --- | --- | --- | --- | --- |
| 5901 | 280 to 410VDC | 5 to 45A | 6kW | OEM CW module |
| 591A | 115 or 230VAC | 3 to 30A | 3kW | Designed for EN 60601-1 |
CW Arc Lamp Igniter Module
| Model | Open-Circuit Voltage (VDC) | Trigger | Input Voltage | Features |
| --- | --- | --- | --- | --- |
| 592T | 1000 | 775V at 300mJ | 350V square wave (From 591A) | Designed for EN 60601-1 |
Specifications are subject to change without notice.