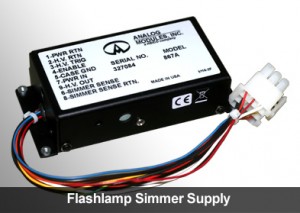 In pulsed laser systems, flashlamps are often simmered during the period of time between the main discharge pulses. Simmering is nothing more than allowing a trickle current (50mA to 10A) to flow in the lamp between pulses. Flashlamp simmering is beneficial for two reasons. First, having an established conduction path in the flashlamp at the time of the main discharge pulse results in less variation in shot to shot pulse energy. Second, because arc expansion during the pulse is less violent, lamp lifetimes are improved in simmered systems. In general, both stability and lamp lifetime improve with increasing simmer current.
AMI's simmer supplies are powered from a 24VDC source and provide both a built-in automatic ignition restrike circuit and a post-flash boost mechanism. These features minimize the possibility of missing pulses when operating with a continuous train of laser pulses.
Data Sheets (PDF format) are available for models listed below.
| Model | Max. Output Current | Output Power | Open Circuit Voltage (Typical) | Operating Voltage | Ignition Pulse | Post Flash Boost |
| --- | --- | --- | --- | --- | --- | --- |
| 864A | 500mA | 60W | Up to 1500V | Up to 300V | -520V @63mJ | 800mA for 8ms |
| 867A | 150mA | 28W | 1150V | Up to 250V | -350V @ 20mJ | 400mA for 2ms |
Common Specifications: Efficiency 75%, input 24-32VDC, ignition restrike rate approx. 30Hz, post-flash boost disabled >30Hz
Options: "Simmer On" Sense Indicator (standard on Model 864).
The Models 867A and 864A are CE Marked and fully compliant with Directive 2011/65/EU (RoHS II).
* Specifications subject to change without notice.