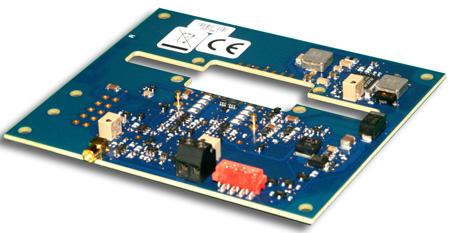 AMI's Model 7612A Semiconductor Optical Amplifier Driver is ideal for driving 14-pin butterfly packaged SOA or BOA modules for use as power boosters, optical switch, wavelength conversion and others. The driver is implemented as a transconductance amplifier (analog voltage in, scaled current out) and includes an on-board TEC controller for temperature stabilized operation of the optical amplifier. The driver circuitry operates from a single 5V power source. All other required voltages are generated on the board by high efficiency switching power supplies. The 7612A is manufactured to the RoHS Directive 2002/95/EC requirements. All required mating cables are included.
The standard product below represents a statement of capability.  Most of the drivers AMI sells for OEM production are customized to meet the requirements of the end use.  Please contact AMI today to discuss the specific requirements of your application.
Data Sheets (PDF Format) are available for models listed below.
Model
Pulse Rate
Peak Current (Pulsed)
Pulse Width
Features
Maximum Diode Load Voltage
7612A
Up to 50MHz
1.2A
6ns to CW
Semiconductor Optical Amplifier Driver
Ideal for driving SOA or BOA modules
3.0VDC
AMI also offers Diode Drivers for the following applications:
Seed Laser Diode Drivers
Pulsed Laser Diode Drivers
CW Laser Diode Drivers
Laser Diode Controllers