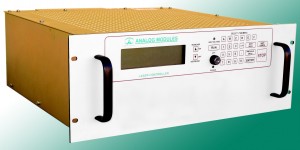 For laboratory and bench top laser diode driver applications AMI offers the Models 8800D and 880D laser diode controllers.  These turn-key rack mount system provide output current to drive laser diodes for pumping solid-state lasers. They offer front panel and remote controls as well as operation via a RS-232 interface.  The output current is presented on an easy-to-read LCD display.  The Models 8800D and 880D are excellent prototyping tools that allows the laser developer flexibility to determine the best laser diode and drive for their end use.  Once the final requirements are defined AMI can help specify and design an OEM driver tailored to your application that will have a lower cost, high reliability and a small footprint.
The Model 8800D laser diode controller provides pulsed output currents to drive laser diodes for pumping solid-state lasers. An internal microprocessor provides the flexibility and convenience of software control and the system status is presented on an easy-to-read LCD graphics display. The 8800D can be configured with one or two power modules for up to 2.8kW of output power. Protection features of the 8800D include an adjustable precision current limit which protects the laser diode from exceeding its maximum rating.
For strictly CW applications, the Model 880D CW diode controller offers higher average powers at a reduced price. The Model 880D can be configured with two or three internal power modules to provide up to 6kW for CW diode loads. Control of the Model 880D can be achieved from the front panel or remotely via an RS-232 interface. An external gate input allows for quasi-CW operation of the Model 880D.
| Model | Average Power | Peak Current (Pulsed) | Peak Current (Continuous) | Diode Load Voltage | Input Voltage | Pulse Rate | Pulsewidth | Risetime |
| --- | --- | --- | --- | --- | --- | --- | --- | --- |
| 8800D | Up to 2.8kW | 300A | N/A | Up to 280V | 198 to 253VAC 1Ø, 50/60Hz | 1HZ to 1KHZ | 100µs to 10ms | ≤ 10µs |
| 880D | Up to 6kW | N/A | Up to 150A | Up to 200V | 208VAC 3Ø, 50/60Hz | CW | | 300µs (Quasi-CW) |
8800D Standard Features
Microprocessor control
Low inductance output cable
Menu driven interface
Hardware and software limits for maximum current, PRF and pulsewidth
RS-232 port
Fast reverse polarity output diode
Adjustable delays and Q-switch trigger
Floating output
880D Standard Features
Low inductance output cable
Front panel interface with LED display
RS-232 port
Fast reverse polarity output diode
Floating output
AMI offers OEM Diode Drivers for the following applications:
Seed Laser Diode Drivers
SOA Driver
Pulsed Laser Diode Drivers
CW Laser Diode Drivers