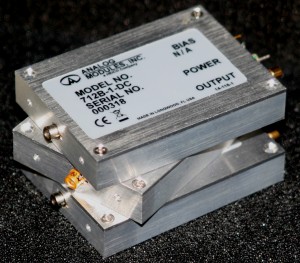 In 1979 AMI's founder began building extremely low noise high voltage power supplies for biasing photodiodes in his garage. That design is still in production today. Hand crafted transimpedance, voltage and logarithmic amplifiers soon followed. For over 30 years AMI has taken that hand crafted quality and moved it into production parts with no loss of performance.
AMI's amplifiers and photodetector ­amplifier modules can be found in photonics laboratories across the globe. Sensors and amplifiers manufactured by AMI include hybrid laser rangefinder receivers and counter modules, quadrant tracking detectors/processor modules, linear and logarithmic amplifiers, pulse stretchers, fiber-optic links and photodetector-­amplifier modules.
For comprehensive technical information, click HERE or contact us to discuss your application.
Our Sensor & Amplifier Products