When considering options for laser diode driver design the determining factors include size, weight, cost, efficiency, and reliability over specified environmental operating conditions.  Unfortunately, these factors are often in conflict with one another. The least expensive approach often will not be the smallest and may not work across all environmental operating conditions.
LASER DIODE DRIVER DESIGN CONCLUSIONS
Linear diode drivers are adequate for low current, low noise, and limited temperature range applications where efficiency is not a prime concern.  For high current applications, they are inefficient and intolerant of capacitor and load variations and are not suitable for use in military applications.
Switching type drivers are preferred for high-current military applications over a wide temperature range because they are much more tolerant of capacitor and load variations.  As a result, fewer and less expensive capacitors can be used. Switch-mode diode drivers have higher efficiency, increased reliability, and longer equipment lifetime when compared to linear diode drivers.
The most reliable and compact diode drivers employ a combination of hermetically sealed, high-quality hybrid capacitors and a polyphase switching circuit.  Although this is a higher cost solution, it is warranted for military programs where enhanced performance, small size and weight, and reliability are primary concerns.
With cost being a greater concern these days, the polyphase circuit may use selected aluminum capacitors that are optimized for low loss at low temperatures. Both high speed FPGA and analog devices have been used as controllers.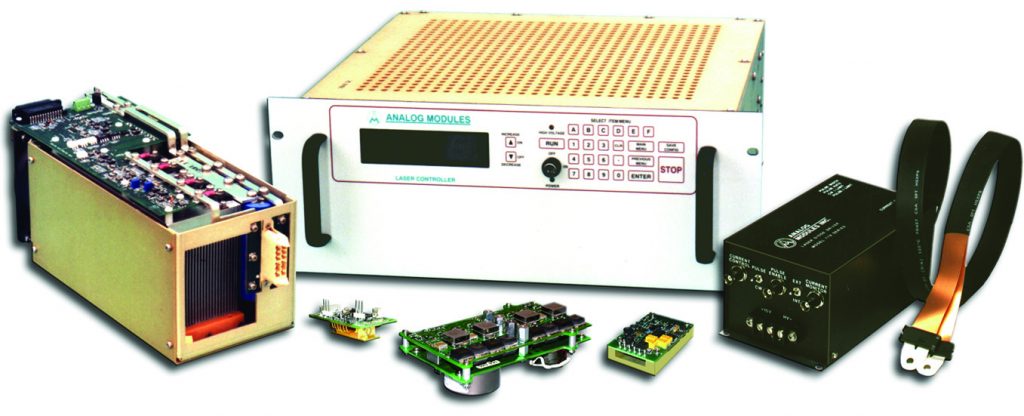 For over thirty years AMI has lead the way in the development and production of true current sources for driving laser diodes. AMI's Laser Diode Drivers provide the end user with active current control and protection for their laser diode.  AMI offers a wide variety of drivers for the expanding number of diode pumped and direct output laser diode applications.
© Analog Modules Inc., June 2016. This post may be reproduced in its entirety without editing.