Longwood, FL – December 11, 2017. Analog Modules, Inc. is pleased to announce the release of its Stackable CW & Pulsed Laser Diode Driver, Model 787.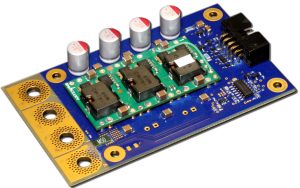 The Model 787 OEM laser diode driver is a highly efficient, current regulated, low ripple tri-phase laser diode driver designed to power pulsed and CW high current laser diode stacks.  Proprietary technology allows AMI to offer a 50A, 5.0V driver with industry leading efficiency of 96% in a compact footprint.  Multiple drivers can be stacked together to achieve output currents of 200A or higher.  The driver includes open circuit, short circuit, over-temperature and under voltage lockout protection.
For detailed specifications and outline drawings on the Model 787, visit our website at https://analogmodules.com/wp-content/uploads/2017/12/787.pdf  to view the product data sheet.  You may also contact AMI to discuss the specifics of your application at sales@analogmodules.com or phone +1 407-339-4355.