New Model 533 Differential Output ±1 kV Power Supply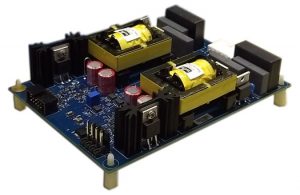 The Model 533 is a highly efficient, cost effective, voltage regulated, differential high voltage power supply capable of providing up to ±1,000 V at up to 125 W total output power. A scaled voltage monitor output is provided for both positive and negative outputs. Both internal (-INT) and external (-EXT) control options are available for setting the output voltage level. The Model 533 is ideally suited for providing the high voltage power for AMI's Model 8212A Pockels Cell Driver.
DIFFERENTIAL OUTPUT VOLTAGE UP TO ±1 kV
MAXIMUM OUTPUT POWER OF 125 W
UP TO 90% EFFICIENCY
RoHS COMPLIANT
For more information please see the data sheet linked below and/or contact AMI directly.
https://analogmodules.com/wp-content/uploads/533.pdf
The press release for the Models 8212A and 533:
The data sheet for the Model 8212B is linked below: