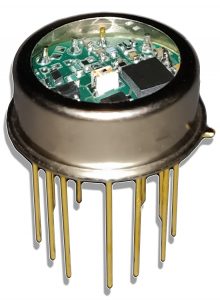 Longwood, FL – October 21, 2019. Analog Modules, Inc. (AMI), a HEICO company (NYSE:HEI.A) (NYSE:HEI), is pleased to announce the release of its High Sensitivity InGaAs APD Optical Receiver, Model 7511A-1-04.
The Model 7511A-1-04 optical receiver includes a 200 µm InGaAs APD with a high gain, low noise preamplifier for use in medical applications, laboratory instrumentation, LIDAR and range finding.  The InGaAs APD offers operation across a wavelength range from 900 nm to 1700 nm at bandwidths up to 40 MHz.  The compact construction (modified TO-8 header) and PCB mounting capability makes the 7511A-1-04 ideal for miniature applications. Contact factory for alternate detector sizes, custom bandwidth and gain requirements.  The 7511A-1-04 is classified as EAR 99 and is not subject to ITAR.
For detailed specifications and outline drawings on the Model 7511A-1-04, visit our website at https://analogmodules.com/wp-content/uploads/7511A.pdf to view the product data sheet. You may also contact AMI to discuss the specifics of your application at sales@analogmodules.com or phone +1 407-339-4355.
HEICO Corporation (NYSE:HEI.A) (NYSE:HEI) is engaged primarily in niche segments of the aviation, defense, space and electronics industries through its Hollywood, FL-based HEICO Aerospace Holdings Corp. subsidiary and its Miami, FL-based HEICO Electronic Technologies Corp. subsidiary. For more information about HEICO, please visit http://www.heico.com.
**********************************************************************************************************
For further information, contact:
Kelly Pacy, V.P. Sales (321-527-3603) sales@analogmodules.com or
Tim Cable, Product Manager (321-527-3613) tcable@analogmodules.com