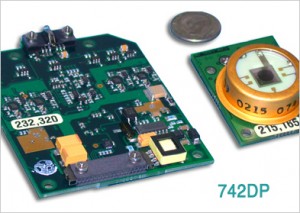 The Model 742DP is a new generation of Laser Spot Tracker with wide flexibility for missile and platform tracker applications. The detector is temperature controlled and optimized for 1.06μm. Independent five channel noise detectors set the lowest thresholds to achieve long acquisition ranges for different background light and spot positions and special circuits resist sunlight blinding in any one or all quadrants. A range of N-type customdesigned detectors gives the highest performance at 1.06μm. A separate substrate allows the detector size or type to be optimized for your application. Model 742DP comprises a hermetically-sealed temperature-controlled detector with built-in front-end electronics, mounted on a SMT board. A second printed board contains analog and digital processing circuits. The individual channels are digitized with a high-speed A-D converter and output as a serial digital interface for steering. An adaptive threshold control allows optimum signal-to-noise operation and power management is used to reduce power consumption.

Key Laser Spot Tracker features:
■ VERY HIGH SENSITIVITY
■ ULTRA-WIDE DYNAMIC RANGE
■ DECODING INCLUDED
■ OPTIMIZED FOR 1.06μm
■ SUNLIGHT TOLERANT
■ UP TO 14mm DIAMETER QUADRANT DETECTOR
■ ADAPTIVE NOISE TRACKING THRESHOLDS
■ FLEXIBLE INTERFACE AND FEATURES

Model 742DP Laser Spot Tracker specifications
Quadrant Detector
Size:  5.33mm (-1), 14mm (-2)
Other sizes & InGaAs available
Inter-element Gap          0.003 inches (76μm)
Responsivity                    0.4 A/W at 1.06μm
Bias Voltage                     180V
Leakage (25°C)               < 10nA (-1), < 200nA (-2) (per quad)
Temperature                   Built-in heater and controller
Sun Protection/Performance
Linear Operation Up to 10μW/quadrant at 1.06μm
Over-temperature Temperature sensor output
Over-current Resistively limited
Dynamic Range > 100,000:1
Threshold
FAR Controlled by adaptive threshold control on each channel, plus sum channel
Minimum Signal 200nW (-1), 400nW (-2); single channel typical at 50% probability of detection
Inputs
First/last/peak pulse logic tri-service code & PIM sequence
via RS-422/RS-485 full duplex serial interface
Outputs
Steering plus status information sent via serial interface
Gain
Multiple stages automatically set
Power
+5V ± 2% @ 600mA (includes up to 250mA for heater)
-5V ± 2% @ 200mA
Physical
Hermetically sealed Detector/Amplifier on mini SMT PCB
Quadrant Processor board
Connections      Omnetics PN A16464-001
Operating Temp    -40°C to +85°C
Size
Detector: 1.123" diameter x 0.43" high
Amplifier PCB: 1.6" x 1.18" x 0.492" high
Quad Processor: 3.0" x 2.30" x 0.50"high
Weight    1.62 oz. (45 gms)
We look forward for to learning about your Laser Spot Tracker requirements.  Please contact AMI to discuss your application today.
"In the event this commodity will be transferred to a "foreign person" as defined in 22 CFR 120.16, either outside or within the United States, a validated US State Department license is required."