BiOS and Photonics West 2020
Thank you to everyone who came by AMI's booths in San Francisco.  It was great to see long time friends and customers as well as making new connections.
This year we featured two new products; the Models 767 Diode Driver and 8212A Pockels Cell driver.  Additionally, we offered a sneak peak at two products under development; a new flashlamp/laser diode controller and a new capacitor charging power supply aimed at the medical market.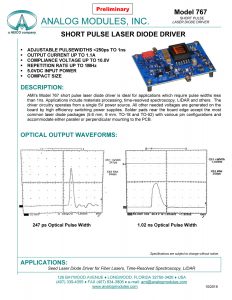 AMI's Model 767 short pulse laser diode driver is ideal for applications which require pulse widths less than 1 ns. Applications include materials processing, time-resolved spectroscopy, LIDAR and others. The driver circuitry operates from a single 5 V power source. All other needed voltages are generated on the board by high efficiency switching power supplies. Solder pads near the board edge accept the most common laser diode packages (5.6 mm, 9 mm, TO-18 and TO-52) with various pin configurations and accommodate either parallel or perpendicular mounting to the PCB.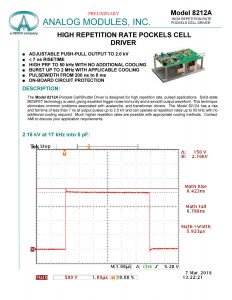 The Model 8212A Pockels Cell/Shutter Driver is designed for high repetition rate, pulsed applications. Solid-state MOSFET technology is used, giving excellent trigger noise immunity and a smooth output waveform. This technique eliminates common problems associated with avalanche, and transformer drivers. The Model 8212A has a rise and fall time of less than 7 ns at output pulses up to 2.0 kV and can operate at repetition rates up to 50 kHz with no additional cooling required. Much higher repetition rates are possible with appropriate cooling methods. Contact AMI to discuss your application requirements.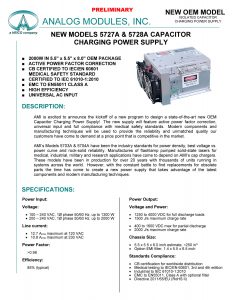 AMI is excited to announce the kickoff of a new program to design a state-of-the-art new OEM Capacitor Charging Power Supply! The new supply will feature active power factor correction, universal input and full compliance with medical safety standards. Modern components and manufacturing techniques will be used to provide the reliability and unmatched quality our customers have come to demand at a price point that is competitive in the market.
Lastly we gave a sneak peak at the interface for our new flashlamp and laser diode controller under development.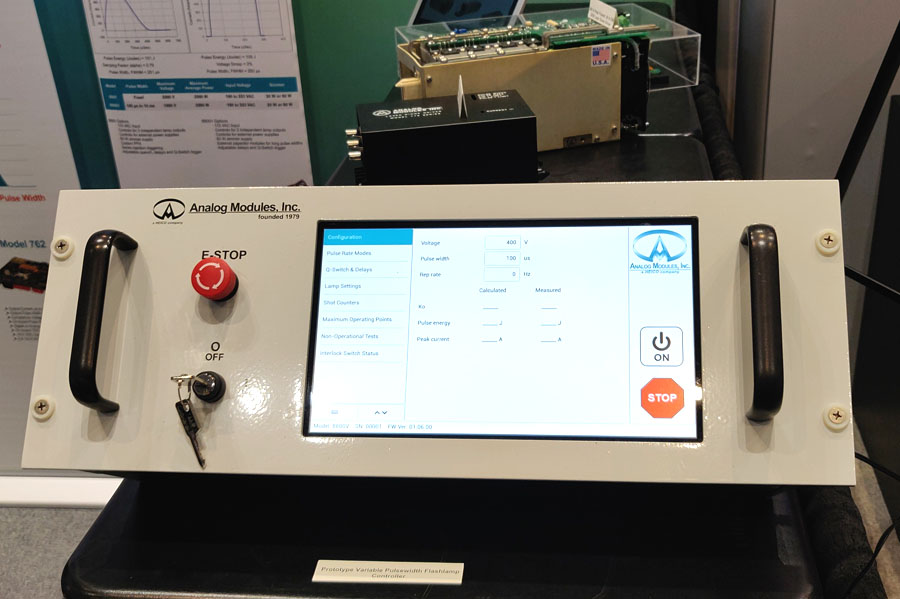 Next up is Defense and Commercial Sensing in Anaheim, California April 28-30, 2020. If you are in the area please stop by our booth # 7012.